You've been put on board of a police car which is driving the wrong way through a highway. Lots of cars are driving your direction (well, actually you are driving their). The crash is impending. The only thing that can avoid it is your driving ability, your reflexes. The other cars won't change their way, you are the one that must use screenpad or tilt controls to switch between tracks and keep away from the others. How long will you last?" Freeway Racer 2 comes with three different tracks, nice music tracks and candy eye looking graphics. A local and now a online highsocre is inside. So let`s drive and create a very good score to rise up on the top off the highscore system. This game is very good for a short break, a typical casual game for kids and adults. Have fun now with Freeway Racer 2.
Jeep Patrol is an endless runner in the army toon style. Drive as far as you can and shoot everything that comes from the sky towards and make points. Moreover jump over large stones or wood destroying obstacles.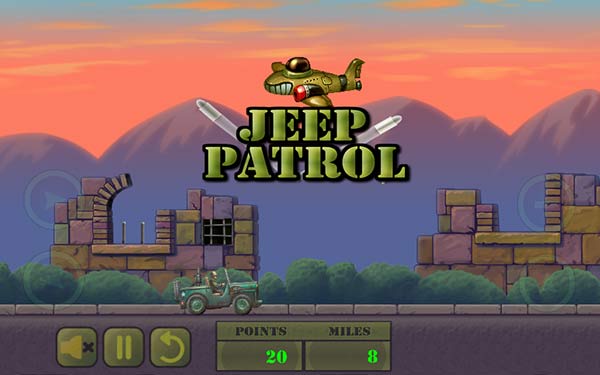 Area Break 3 is a retro game from the 80`s. You can select between normal or hard mode. Normal or random level. It is a local highscore inside. The aim of the game is, destroy all bricks to rise up to the next stage. It`a time breaker with Egypt music and nice sound effects. You play the game with tilt function. Move your mobile phone to move the paddle from right to left. This is a fast reaction game what you have ever see on mobile. So, now have fun with this game and create a good score.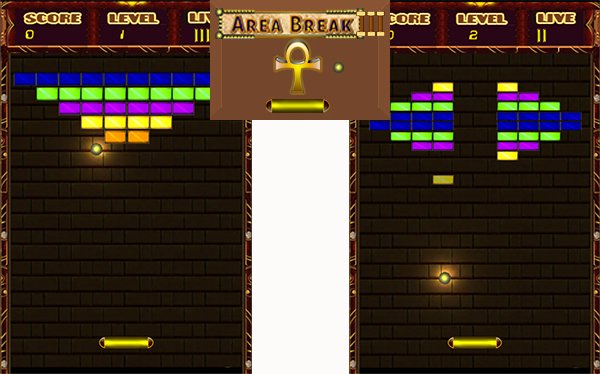 Small Cave Hero is a retro game like games from the 80`s. This hero fly with his helicopter on his back into the cave and rescue all cave workers because there can`t find the way out. So fly fast, destroy walls with limited dynamite and you are the hero of this game. So let`s play Small Cave Hero. We need you now!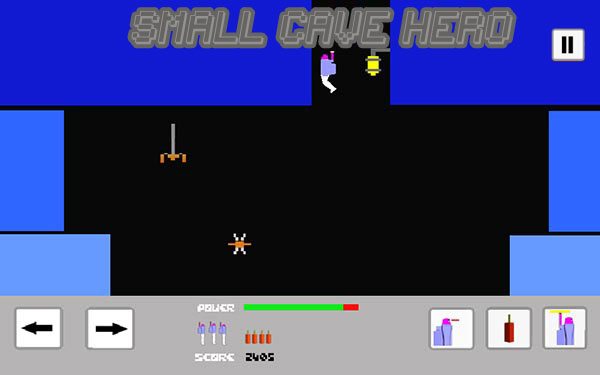 Chopper Chuck is a frenetic game where you've got to cut down a gigantic tree as fast as you can with the sole aim of beating your own record – and without dying in the process. To chop, all you've got to do is tap the left or right side of the screen, taking care to dogde the branches that fall one by one so you don't interrupt your long streak of successful chops. With its delightful retro style, Chopper Chuck has you dress up in a traditional lumberjack shirt – or (randomly) in one of the outfits of a super famous character like Batman, Robocop, Frankenstein, Dracula, or Mario. If you manage to chop down the tree within a set number of chops you can win a bronze, silver, or gold medal. Don't you dare think getting that gold will be easy, though!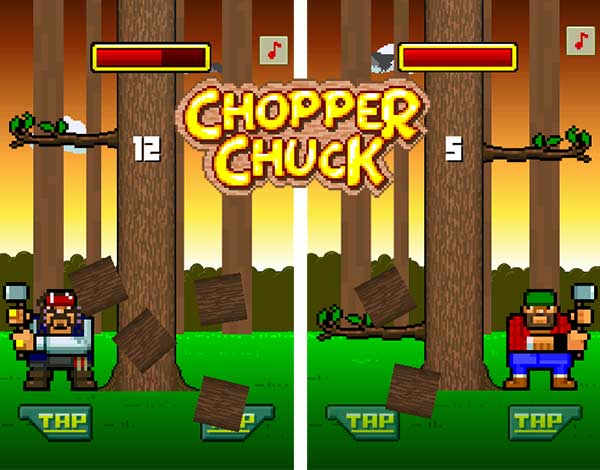 Clickballs is a reaction game. Click 3 times on the falling ball to get him to burst and get points. If you do not succeed, he bursts on the barb board and that means no points and the distance to the gameover line is shorter. So be fast, let's go.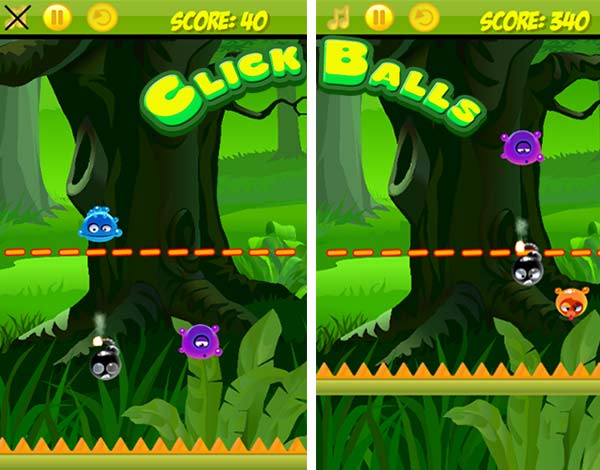 Falling Ork is a small casual game. Collect all coins to make points and collect the keys to open spikedoors,otherwise you are death and start the level again from the beginning. This game is playable with the acceleration movement with you mobile phone or tablet. Rotate your mobile phone to move the ork.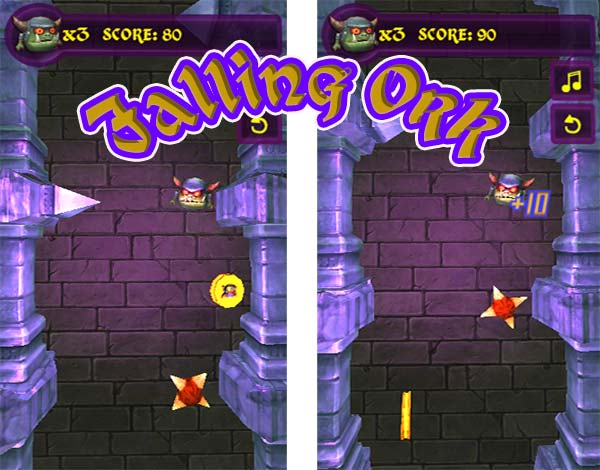 The player controls a dot, square, or object on a bordered plane. As it moves forward, it leaves a trail behind, resembling a moving snake. In some games, the end of the trail is in a fixed position, so the snake continually gets longer as it moves. In another common scheme, the snake has a specific length, so there is a moving tail a fixed number of units away from the head. The player loses when the snake runs into the screen border, a trail or other obstacle, or itself.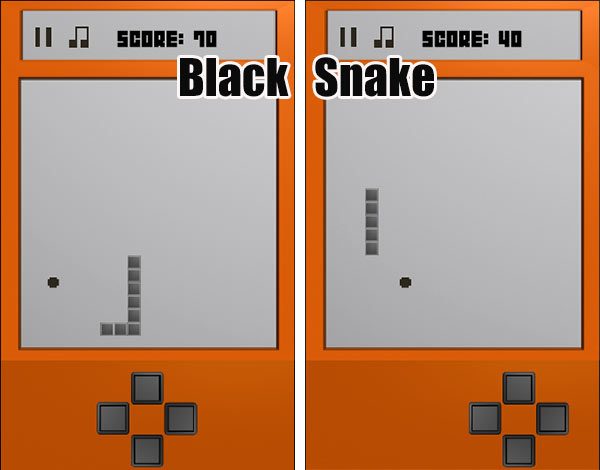 Green Bird is a Flappy Bird Clone for your mobile phone or tablet. Tab on the screen to fly the green bird but dont collide with the pips. It is an endless flying game. Create the best scrore. Are you good enough for this adventure?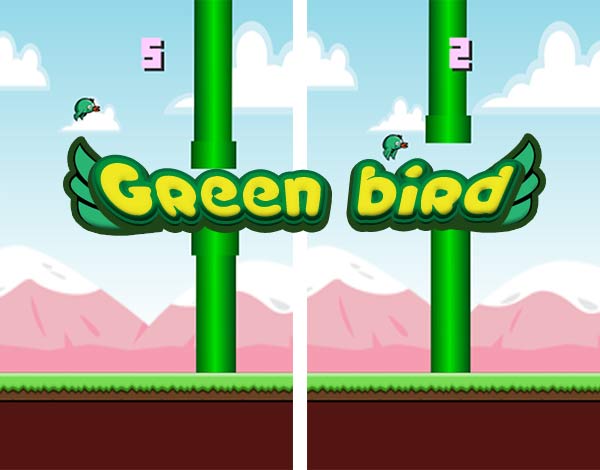 Funney Honey Bee is a Flappy Bird Clone for your mobile phone or tablet. Tab on the screen to fly the Funny Honey Bee but dont collide with the pips. It is an endless flying game. Create the best scrore. Are you good enough for this adventure?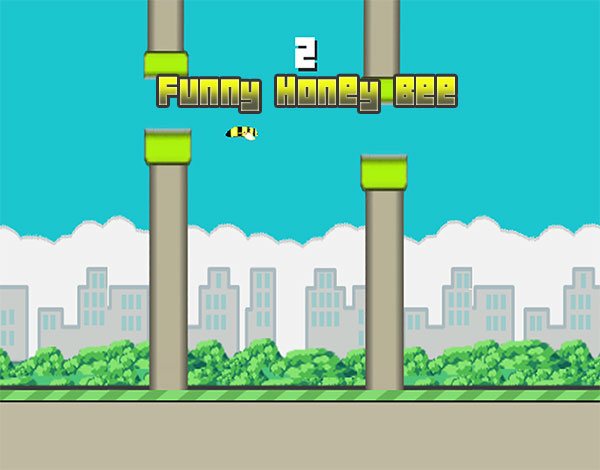 Kniffy is a Yazzy Clone. You can play it alone vs the GPU or with an other real player. A game with a lot of fun for your PC.